| | | |
| --- | --- | --- |
| | A STRANGE MASH-UP OF THE MEDIA WATCH THEME AND 'MAKE 'EM LAUGH' IS HEARD. JONATHAN HOLMES ENTERS AND ADDRESSES THE CAMERA WHILST HOLDING A NUMBER OF NEWSPAPER ARTICLES. | |
Welcome to the Australian Tumbleweeds 2008, I'm Jonathan Holmes. It's been another great year for comedy, hasn't it? 2008 saw Rebel Wilson get her own series, Kenny make the leap to television, and Tony Martin confined almost exclusively to cameos and guest appearances. Did I say "great"? I meant to say "grating". And to top it all off, Good News Week came back. Maybe I meant to say "teeth-grinding".
Yes, Good News Week. Just as hilariously biting as The Chaser's War on Everything, except it's a game show. Still, I can't deny that it's the kind of thing that kids talk about on the bus home from school, and because we here at the Tumbleweeds are desperate to attract that key demographic, I think it might be worth giving it a try right here and now.
HOLMES CLEARS HIS THROAT AND BEGINS.
The term "out of the question" became something of a catchphrase in 2008. Usually in response to the query "Is Glenn Robbins likely to say something interesting this week?".
THE AUDIENCE LAUGHS SLIGHTLY.
The show still managed to answer many of life's mysteries, but sadly was unable to come up with an explanation of Fifi Box.
A LITTLE MORE LAUGHTER.
The Gruen Transfer
, being an ABC programme, carried no adverts, yet some have complained that the show featured subliminal messages. Many viewers said that, halfway through each episode, they felt compelled to invest in some kind of pain relief.
THE PRODUCERS SCRAMBLE TO FIND SOME CANNED LAUGHTER.
Triple M Melbourne attempted to turn their ratings slump around by "focusing on the breakfast show". With Peter Hellier leading the charge, Triple M thought they were on to a winner. But gutsy Hellier found it hard to fit through the Tony Martin-shaped hole in Triple M's comedy wall...and Triple M's ratings ended up in the pool!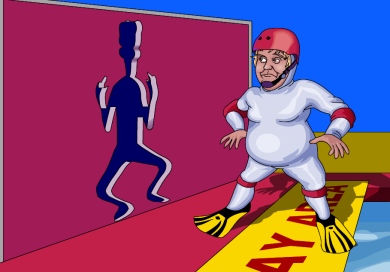 LOUD, RAUCOUS LAUGHTER OVER SHOT OF AUDIENCE NOT LAUGHING.
Kenny made the trip to our television screens with a documentary series looking at toilets around the world. It was a show with "hit" written all over it - Ten executives later denied leaving off the "S".
THE LAUGH MACHINE SPLUTTERS AND DIES, LEAVING ONLY THE SOUND OF SCUFFLING FEET AND THE OCCASIONAL MUTED COUGH.
Double the Fist
made extensive use of state-of-the-art CGI. This allowed the team to use ultraviolence, horror special effects and various surreal imagery, although the next series will see their biggest accomplishment to date: a realistic-looking joke in episode five.
THE AUDIENCE STARTS TO SEARCH THROUGH THEIR BAGS FOR OBJECTS TO THROW.
Good News Week
uses the song 'Good News Week' by Hedgehoppers Anonymous as its theme tune, although it wasn't the first choice. The producer originally intended to use its b-side, 'Blimey The Bloke From The Doug Anthony All Stars Is Still In Work'.
HOLMES IS PELTED WITH ROTTING APPLE CORES, OLD TISSUES AND POCKET EDITIONS OF 'THE SCUM MANIFESTO'.
Well, I seem to have finished this stream of terrible gags...and that's the good news!
HOLMES THROWS ALL THE ARTICLES IN THE AIR AND EVERYONE CHEERS. HE GOES TO SIT AT HIS DESK. AND YOU MUST GO TO OUR FIRST CATEGORY...